The Gardener's Dirt April 2014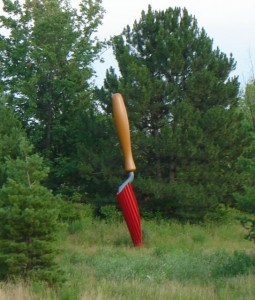 Information you can really dig into.
This newsletter offers timely information for your outdoor living spaces. Addressing the most common questions ranging from container gardening, tree pruning, wildlife management, to fire and control, insect identification and lawn establishment and maintenance.
Click here for a printable version of this newsletter.
Shawn Banks
Extension Agent
Agriculture – Consumer Horticulture
---
FEATURE ARTICLE
Cool Tools?
By Joanne King
Here are some suggestions for working smart in the garden. Many gardeners consider some of these to be "must haves" based on their functionality and ease of use. Others are just plain cool! The photos are representative of the products which are carried by various manufacturers at garden supply stores and online.
Folding pruning saw:  Pruning saws are handy saws for smaller jobs cutting branches up to 4 inches in diameter. The folding mechanism secures the blade in its own sheath for protection when not in use. You can carry it in your pocket and not hurt yourself. Of course, once it is extended be careful. It is very sharp and is designed for proper contact with the wood, making a clean pruning cut. (Photo:  fiskars.com)

Hand pick:  The pick axe is great when you need to dig in hard or rocky soil. With sharp tines on one side and an adze shaped blade on the other, the pick axe is built for the tough stuff. It is also handy when digging where roots may need to be removed or when transplanting plants and small shrubs. (Photo:  agriculturesolutions.com)

Mid length tools for raised beds:  Raised bed gardening has become very popular and because of this, tool makers have started making mid-sized tools. Hand tools are too short, and long handled rakes and shovels are awkward. Mid-length tools enable you to reach across your bed and are a more comfortable size. Here are two from raisedbeds.com. One is a two-in-one hoe and cultivator, the other is a trowel. (Photo:  raisedbeds.com)

Angle hand weeder:   The angle hand weeder features a serrated blade on one side for pulling grass and weeds, a hook on the end for pulling weeds in patio and driveway cracks and a forked end for prying up tap rooted weeds. And for the left handed gardeners, here is a tool that is available in a left-hand version.

Seven-in-One Garden Multi-Tool:  A trowel-like garden tool that truly multitasks. It serves as a trowel or transplanter, has a serrated edge for mulching or opening plastic bags, a sharpened straight edge for cutting sod and notches along the blade that serve as a twine cutter. The handle end is strong enough to use as a small mallet. Is that seven? (Photo:  amazon.com)

Plant Nanny:   Not really a tool, but cool nonetheless, the Plant Nanny waters your plants when you can't. People have devised other methods that reuse liter soda bottles but this product is easy to use and attractive in patio pots, especially if you use a pretty colored wine bottle. Ceramic stakes are designed to release water into the soil via a reservoir held in an inverted wine or plastic bottle. The inverted bottle attaches to the stake which is inserted in the planter. The stakes, which are 5 inches long, release water directly into the soil. Two sizes are available, for either wine bottles or plastic soda bottles, to fit the openings of either bottle. (Photo:  plantbuddy.com)
---
FEATURE PLANT
Fairy Wings, Bishop's Hat
Epimedium spp.
By Margy Pearl
Do you have fairy wings? If your first thought is about old Halloween costumes, you may be missing out on an aptly named and amazingly varied group of shade perennials! Beautiful and hardy, these woodland wonders of the Barberry family from Asia are rapidly growing in popularity and in the number of selections available in local nurseries.
Why grow epimediums? First, for the unique spring bloom! Ranging from the small, rose-pink flowers of E. 'Roseum' up to the large, reddish-purple blooms of Epimedium grandiflorum 'Red Queen', the columbine or orchid-like flowers are ethereally suspended from arching stalks. The spikes may be short with few flowers, or up to 3 feet long with a profusion of the "cups with spurs" along its length. The stalks begin emerging from the ground with E. 'Pink Elf' at Plant Delights Nursery in early March. The flowering stalks hover and dance in the breeze for as long as a month, with most common varieties blooming through April. A few specimens, such as E. 'Sunny and Share' and 'Spritzer' may even bloom sporadically through the summer! Bloom color varies widely; white, yellow, pink, or purple with varying shades, tints and combinations, such as the raspberry-spurred, yellow cup of E.x omeiense 'Akame'. One of the more spectacular is E. 'Amber Queen', topped in April and May with 2′ long spikes adorned with abundant bright yellow, spider-like flowers tipped with orange-red. Wow!
Tony Avent of Plant Delights Nursery @ http://www.plantdelights.com/, an epimedium expert, has 39 varieties in his current catalog, wtih 50 plus in cultivation.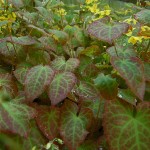 The second reason to grow fairy wings is the foliage! Leaves may be edged, speckled, mottled, netted; chocolate, red, bright green, chartreuse; heart, ear, or arrow- shaped; mahonia-like or delicate; new foliage in one color that matures to another. If the flower color choices don't tempt you, the foliage will! Even E. x versicolor 'Sulphureum', a very common cultivar, has lovely, elegant two-toned yellow blooms and surprising, stunning foliage of reddish-brown netted with green veins. In fact, the entire group of x versicolor has an outstanding variety of foliage and flower choices! Many cultivars are evergreen,while others are completely deciduous. But, especially with this year's bitterly cold winter, the old foliage should be removed before the new flower spikes, then the foliage, emerges. After cutting back the old foliage and before the spikes appear, the plant will benefit from a light application of leaf mold or compost.
Third reason to plant epimedium? It's so easy to grow! It's a rhizome that will eventually spread to form a clump, either dense or loose, depending on the variety. One of its best uses is as a ground cover, or living mulch, under trees. While generally drought tolerant, most specimens will fare better in part sun to light shade with a rich, organic, moisture ­retentive soil. Ph should be about 6.2-6.5. Be careful of E. grandiflorum cultivars; they do not do well in alkaline soils. Old, reliable E. x versicolor 'Sulphureum' is one of the few specimens that enjoy deep shade and very dry conditions, competing successfully with more aggressive tree roots. Also, especially hardy in very dry sites are Epimedium x rubrum, E. x warleyense, E. x perralchicum, E. x  versicolor and Epimedium pinnatum ssp. colchicum. Also well worth reading is The 10 Best Epimediums You Can Buy, an article by Richie Steffen of the Northwest Horticultural Society. Describing 10 particularly tough and showy varieties. The photos alone are worth a look!
Are deer a problem for you? Me, too! Epimediums are highly deer resistant. That's a great fourth reason to include these beauties in your shade garden!
Other common names for epimedium are barrenwort, which refers to the plant's use in herbal medicine for fertility, and horny goat weed. I'll leave that explanation to your imagination; which brings me to propagation and the last reason to grow epimedium! Propagation by division is fairly easy and it works! After flowering, make sure you cut off a large piece of rhizome, leave two thirds of the foliage on the rhizome and trim the roots to 4-5". Plant, water when needed, enjoy, and let me know when you have enough to trade!
Where to Purchase Epimediums:
Plant Delights, Raleigh; Big Bloomers, Sanford; Hudson's Hardware, Clayton
Possibly: Campbell Road Nursery, Logan's Trading Company, Homewood Nursery, or Atlantic Avenue Nursery, Raleigh and Garden Hut, Fuquay-Varina ( call to check, not on website).
---
UPCOMING EVENTS
All Bugs Good and Bad Webinar – Friday, April 4, 2014 at 2pm. Dr. Thomas N. Mather, Professor & Director, Center for Vector-Borne Disease and TickEncounter Resource Center, University of Rhode Island will be our presenter, covering a wide range of things you need to know about keeping yourself safe from ticks this summer. To join the webinar visit https://learn.extension.org/events/1381.
Southern Ideal Home Show – April 11-13, 2014 at the State Fair Grounds in Raleigh, NC. Master Gardeners will be there to answer questions and do presentations on gardening topics. Shawn will be doing a presentation about pruning on Friday, April 11. For more information about the show including prices visit https://www.southernshows.com/hsr/.
Plant Sale-A-Bration -Saturday, April 12, 2014 9:00am – 2:00pm at Johnston Community College in Smithfield, NC. The Master Gardeners will have a table set up to answer gardening questions and talk with people about soil testing. We will also have a section where we will be selling grafted tomatoes for $4.00 each. These tomatoes are grafted onto a rootstock that is resistant to almost all soil dwelling diseases. If you've had trouble with tomatoes wilting in the garden in the past try one or two of these grafted tomatoes to see if they will produce better for you. For more information, contact Minda Daughtry, (919) 209-2184.
Clayton Farmer's Market – Saturday, April 26, 2014. Master Gardeners will have a table set up to answer gardening questions and talk to people about soil testing and soil test results.
---
BE CREATIVE, GO NATIVE!
April Native Plant of the Month is:
Erythronium americanum
Yellow trout-lily, American trout-lily, Dog-tooth violet, Eastern trout-lily, Fawn lily,
Erythronium umbilicatum
Dimpled Trout Lily, Dog-tooth violet, Serpent's Tongue, Adder's Tongue
by: Margy Pearl
Seen as early as February at the North Carolina Botanical Garden, Dimpled Trout Lily, Erythronium umbilicatum, sometimes called "dog-tooth violet," is the common Trout Lily in central North Carolina. Much rarer is the American Trout Lily (Erythronium americanum).
For the ultimate plant detective, the Dimpled Trout Lily (E. umbilicatum) has a dimple (umbilicum -belly button!) where the style attaches to the ovary (rounded end of the seed pod); the style (dried stem) does not stay on the fruit. The E. americanum lacks the dimple and has a style that stays attached..
Common Name Origins:
Trout Lily refers to the similarity between the leaf markings and those of the brown or brook trout.
Dog-tooth Violet (although it is from the lily family) refers to the tooth-like shape of the white underground bulb.
Foliage, Form and Habit:   A pair of tongue-shaped leaves 4-6 in. long; pale green and mottled with purplish brown. Young plants often have only one leaf. Plants spread freely by means of underground stems and make a delightful ground cover in dappled shade. The plants are only in growth from late winter to late spring so the ground cover effect is ephemeral.
Flower:    With a height of up to a foot in bloom,the stem terminates in a handsome, large, pendulous, lily-like flower, an inch across, with petals strongly recurved, bright yellow in color, often tinged with purple and finely dotted within at the base, and with six stamens. The anthers are usually lavender-brown in E. umbilicatum, yellow in americanum, though this is not always a reliable characteristic.
Flowering Season:   One of the early spring wildflowers. Bloom time is earlier in E. umbilicatum(late February- April) than the American (late March-April).
Site:  Moist, well-drained, humus soil; partial shade to shade; rich woods and bottomlands from New Brunswick to Florida and westwards to Ontario and Arkansas. Plant Erythronium bulbs where they will receive ample sunlight in March and April, but progressively more shade later on. Mulch with a light layer of fallen leaves in autumn.
Other Species:  The White Dogtooth Violet (E. albidum) has narrow, mottled leaves and white, bell-shaped flowers, often tinged with lavender on the outside.
Propagation:  Dig and divide clumps of plants when leaves start to yellow or sow from seed.
Natural Settings:
Swift Creek Bluffs Nature Preserve
7800 Holly Springs Rd.
Raleigh, NC 27606
In the spring, bloodroot and trout lily kick off a festive wildlife season that begins mid-February.
North Carolina Botanical Garden
Mason Farm Road
Chapel Hill, NC 27517
Be sure to check out stream banks on your walks in the area. They do exist in the wild!
Where Bulbs Can Be Purchased: (try them instead of tulips!)
FYI- Nursery catalogs emphasize the importance of planting these bulbs immediately when you receive them because they are short-lived once dug!
Bluffview Nursery
www.bluffviewnursery.org/
4155 Hills Creek Rd, McMinnville, TN 37110
(931) 815-2632
The Vermont Wildflower Farm
http://www.vermontwildflowerfarm.com/trout-lily.html
PO Box 96
Charlotte, VT 05445
1.855.8GOWILD (846-9453)
Eastern Plant Specialties
http://www.easternplant.com/searchplants.asp
Rahway, NJ
207-504-4405
Plant Delights Nursery, Inc
Currently unavailable but you can use this link to ask them to be offered again:
http://www.plantdelights.com/
9241 Sauls Road
Raleigh, NC 27603
Phone: 919.772.4794
Email: office@plantdelights.com
For native plants, in general:
If you have a several hours and the interest, this link is the list of Native Plant suppliers for NC!
http://www.ncwildflower.org/natives/sources.htm
FYI-   Cure Nursery in Pittsboro is listed as wholesale but they replied to my inquiry that they will sell to Master Gardeners, please call ahead!
---
YARD VILLAIN
Ticks
By Shawn Banks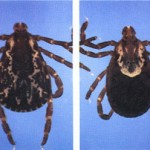 Here is an insect, small in size, which produces a great fear in many people, rightfully so in many cases. Ticks are known to carry some pretty nasty diseases, like Lyme Disease and Rocky Mountain Spotted Fever. Yes we have both of those diseases here in North Carolina. Not every tick carries the disease. Here are a few things that you should know.
When a tick bites you, do not throw it away. It's important that you identify the tick species. The tick may also be needed to test the tick for the presence of a disease if that species is a known disease carrier. There is a website listed below that may be helpful in identifying the tick. Once you have the tick identified you will be better equipped to speak with a doctor, if needed.
I've heard many methods of removing ticks. The TickEncounter Resource Center from the University of Rhode Island says the best way to remove ticks of any size or species is to use pointy tweezers like those found in the cosmetics section of the pharmacy. A short video on removing ticks can be found at https://www.youtube.com/watch?v=0wotB38WrRY&feature=youtu.be.
Ticks are prevalent in our area as soon as temperatures begin to warm in the spring and all through the summer and into the fall. Recent research is finding that some ticks may even be active on warm winter days. If you are going into an area where you are likely to come in contact with ticks, tuck your pants into your socks and your shirt into your pants. Ticks climb up to find a good place to attach.
One last item, okay maybe two. A tick must be attached for a minimum of 24 hours before it will transmit the disease into its host. If the tick is removed within 24 hours of beginning to feed, it is very likely you will not get sick.
There will be a 45-minute webinar on ticks through eXtension on Friday, April 4 at 2:00pm eastern time. The title of the webinar is Get TickSmart: 10 Things to Know, 5 Things to Do. You can watch the webinar live by going to https://learn.extension.org/events/1381 or you can watch a recording of the webinar from the same location about a week after the original broadcast.
For more information on ticks you can visit the TickEncounter Resource Center at http://www.tickencounter.org/. There is also the opportunity to become a tick spotter and share pictures of the ticks you find along with their location.
Resources
TickEncounter Resource Center – http://www.tickencounter.org/
NC Department of Health and Human Services
Insect Notes: Ticks and Tick Borne Diseases in North Carolina https://www.ces.ncsu.edu/depts/ent/notes/Urban/ticks.htm
---
WHAT'S IN SEASON
Malabar Spinach
Basella aldba
By Tina Stricklen
If you are looking for an attractive and edible climbing plant that will effectively block a view, then Malabar spinach is for you! Hailing from the far-flung regions of India, Basella alba isn't a spinach at all. What appeals to the vegetable gardener is the spinach-like taste of this plant and its ability to thrive in summer heat where regular spinach wilts. You must provide a sturdy trellis or some type of vertical structure for the vigorous twining vine since it can grow up to 10 feet in a season. The heart-shaped leaves are meaty and after they become larger than one inch they develop a viscous or mucilaginous (slimy) texture. For this reason, use the smaller leaves raw in a salad but cook the larger leaves in quiches, stir fries, and soups. The succulent leaves are a rich source of vitamins C and A as well as iron and calcium.
Malabar spinach can be sown directly after fear of frost or start indoors up to six weeks before the last frost date. Plant them in a full-sun location about a foot apart. This is a tough plant as it is disease and pest resistant and grows quickly once the summer heat cranks up. A noteworthy cultivar is 'Rubra' because it produces red stems, creating another exotic and beautiful aspect to any vertical garden.
Treat this plant as an annual in our Zone 7 gardens. In my experience, if you leave the plant after the fall frost, you can expect those once deep purple seed heads to drop and germinate. Beware that the following spring will bring lots of seedlings for your garden as well as all your gardening friends.
Malabar spinach can be substituted for regular spinach in many recipes. You may substitute larger leaves for baby spinach by cutting out the ribs before proceeding.
INGREDIENTS
2 tablespoons olive oil
1/2 cup shredded carrot (from about 1 medium carrot), finely chopped
1/2 cup yellow onion, small dice
2 medium garlic cloves, finely chopped
1 teaspoon kosher salt, plus more as needed
1/2 teaspoon freshly ground black pepper, plus more as needed
20 ounces baby spinach, washed
2 medium scallions, finely chopped (white and light green parts only)
1 cup sour cream
1/2 cup mayonnaise
2 teaspoons Worcestershire sauce
1 teaspoon freshly squeezed lemon juice
Saltine or Ritz crackers, crostini, carrot sticks, celery sticks, or thick-cut potato chips, for serving
INSTRUCTIONS
Place a quadruple layer of paper towels on a cutting board and set aside. Place a fine-mesh strainer in the sink.
Heat the oil in a large straight-sided frying pan over medium heat until shimmering. Add the carrot, onion, garlic, measured salt and measured pepper and stir to combine. Cook, stirring occasionally, until the vegetables have softened, about 6 minutes. Transfer to a large bowl and set aside.
Return the pan to medium heat, add half of the spinach, season with salt and pepper, and stir to combine. Cook, tossing occasionally with tongs, until the spinach is completely wilted, about 4 minutes. Add the remaining spinach and cook, tossing occasionally, until completely wilted, about 3 minutes more.
Transfer the spinach to the strainer in the sink. Using a ladle, press on the spinach to squeeze out as much liquid as possible.
Place the spinach on the layered paper towels, cover with a second quadruple layer of paper towels, and press any additional liquid out of the leaves. Discard the paper towels, finely chop the spinach, and transfer it to the bowl with the vegetables.
Add the scallions, sour cream, mayonnaise, Worcestershire, and lemon juice and stir to combine. Cover tightly and refrigerate until the flavors meld and the dip is thoroughly chilled, about 2 hours.
Sources:
http://www.missouribotanicalgarden.org/PlantFinder/PlantFinderDetails.aspx?kempercode=f219
http://www.gardening.cornell.edu/homegardening/scene9529.html
---
APRIL GARDEN TASKS

LAWN CARE
Grass clippings are a great source of nitrogen. Practice grasscycling , a recycling practice where you leave the grass clippings on the lawn to return nutrients to the soil. This could reduce the amount of nitrogen needed in fertilizer for the year by 25%. Clippings may also be composted (they're a great nitrogen source), or sprinkled onto flowerbeds as long as they're not allowed to mat together.
Warm season lawn seed may be planted toward the end of the month. Call us for a copy of 'Carolina Lawns' which tells you exactly when and how much seed to plant.
TREES, SHRUBS & ORNAMENTALS
Renew mulch around trees, shrubs, and in garden beds. Make sure mulch does not touch the bark of trees or shrubs and extends to the drip line of young trees.
If rambunctious perennials have reproduced too freely, remove and pot the excess plants. Pass them along to friends and family. New gardeners will be thrilled to receive free plants. Dividing Perennials
Don't overfeed azaleas and camellias. These shallow-rooted plants are not heavy feeders, and can be damaged by over-fertilizing. Submit a soil sample to be tested (it's free) to determine if fertilizer is needed. Use a slow-release, balanced fertilizer immediately after blooming. Apply it around the drip line of the shrub, according to label directions.
Special fertilizers for 'acid-loving plants' are not necessary; our soils are sufficiently acid naturally.
Watch for black spot and powdery mildew on roses – common problems in our humid climate. Although these diseases make the foliage look bad, the plants generally do well anyway. Rose Diseases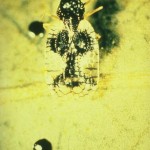 Watch for lace bugs, the most common pest on azaleas. Look for whitish, stippled leaves with shiny dark flecks on the undersides of the leaves. If found, treat with horticultural oil (an insecticide). Be sure the spray reaches all parts of the leaves and stems, including the undersides of leaves.
Annual flowers such as zinnas, moonflowers, cleome, gloriosa daisies and sunflowers can be seeded in mid April.
Let spring bulbs die down naturally. Remove flower heads after the petals fade, and allow the foliage to die down naturally. Do not fold, twist or braid foliage. Once the foliage falls over, it can be removed. Leafy companion plants can hide yellowing bulb foliage. Tender bulbs such as ranunculus and anemone can be dug and stored when their foliage begins to yellow. At the end of the month, plant summer bulbs like caladiums, lilies, gladioli, dahlias, and elephant ears.
Prepare new flower beds by loosening and amending the soil. All plants perform better when their roots can spread in loose, organic soil. Till the soil and incorporate organic matter, lime and fertilizer – according to soil test results (free kits available at this office) Plant perennials now so they can become established before hot weather sets in.
VEGETABLES & FRUITS
Check tender shoots of vegetables and emerging perennials for aphids. If found, spray off with water.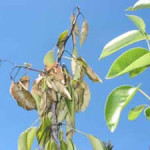 Watch out for and control fireblight  on apple, blackberries and pear trees (including ornamental varieties). Affected branches look like they've been burned with a blowtorch. Control this bacterial disease by pruning diseased limbs back to 1 foot beyond the diseased area. Be careful not to let infected foliage touch healthy foliage (yes, it's that contagious), and disinfect tools between cuts to avoid spreading the disease. Discard rather than compost the infected limbs.
Plant turnips before April 15. Plant pole beans, carrots, and winter squash after April 15.
Cucumbers, corn, pumpkins, snap beans, watermelon, and cantaloupe may be safely planted at the end of the month.
Thin cool weather crops that were seeded last month.
Pick off blossoms of strawberries planted this season. Let plants mature a year before they bear fruit.
Keep tomatoes well-watered to avoid blossom end rot.
HOUSEPLANTS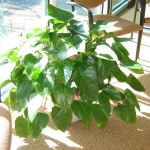 Divide overgrown house plants.
Gradually introduce houseplants to the out-of-doors for their summer "vacation." Give them partial shade at first; experiment to see which of them can handle sun. Even sun-lovers will need a few days in the shade, to get used to the intensity of sunlight, before going out onto a sunny patio.
---
If you have gardening questions you would like to have answered contact the Extension Master Gardener Volunteers by phone at (919) 989-5380 or by e-mail at jcemastergardener@gmail.com.
If you would like to subscribe to this monthly newsletter send an e-mail to shawn_banks@ncsu.edu and ask to be added to the electronic newsletter list.
---
Was the information on this page helpful?