Produce Projects
2015 GRANT PROJECTS
Guilford County, Agent John Ivey
George and Donna Smith of Gibsonville are sixth generation farmers. 2016 marks the 83rd year the family is participating in the Greensboro Farmers Curb Market. They are using their grant funds to purchase plastic mulch laying equipment to become more efficient and increase vegetable production while conserving water.
Guilford County, Agent John Ivey
Dean and Rhonda Ingram of High Point are proud to own a NC Century Farm. Their strawberry operation has been ongoing for nearly 40 years. With the grant funds they plan to add blackberries, providing their customers with a summer fruit option. The Ingram's produce can found at Piedmont Triad Farmer's Market and Peach Tree Farmer's Market.
Johnston County, Agent Brandon Parker
Wayne Worley, of Princeton received a small grant to add a U-pick strawberry field. Worley's new field is located off of HWY 70 near Princeton.
Johnston County, Agent Tim Britton
Susan Weaver Ford, of Kenly is a third generation tobacco farmer. When the quota system was eliminated Susan diversified by adding a crop of peas. With the grant award she plans to expand her farm crops to include string beans and butter beans.
Wilson County, Agent Billy Little
David Batts from Macclesfield, and owner of Old House Honey received a small grant to expand his bee pollination service from 25 to 100 hives. The service is available to horticulture farms in Wilson County and surrounding areas.
Wilson County, Agent Billy Little
Cullin Williford from Elm City received a small grant to diversify his family farm with three new crops, squash, cabbage and onions. The produce will be marketed to grocery stores and wholesalers under the brand name Sugar Hill. Cullin hopes that the Sugar Hill brand will become known for produce of high quality and good taste.
Martin County, Extension County Director, Al Cochran
Thomas Pierce from Jamesville grows strawberries, tomatoes, collards, cabbage, melons, corn and potatoes. He operates a road side produce stand from mid-April to the end of November. With the grant funds he will purchase a walk-in vegetable cooler and ice machine. J and J Farms produce stand is located off of Hwy 64 E. and Pierce Lane.
Rockingham County, Agent Kathryn Holmes    
Brenda Sutton and husband Rex Inman from Reidsville have been cultivating a mushroom growing enterprise since 2004. They have worked diligently to educate the public about mushrooms and build a local market for Shiitake mushrooms. With the grant funds they plan to build a Geodesic shaped dome with a climate controlled environment that will enable them to grow mushrooms year round.
Rockingham County, Agent Kathryn Holmes  
Smith Farm, in Stoneville has been a family farm since before the Civil War. They grew tobacco from 1820 through the 1980's. Today, they grow 10 acres of certified organic produce. With the grant funds, they plan to add a high tunnel greenhouse to grow USDA Certified Organic greens and vegetables year round.
Sampson County, Agent Della King
Kevin Hobbs of Faison will use the grant funds to re-purpose three greenhouses from growing tobacco transplants to growing specialty produce. As the farm operation moves away from tobacco, this transition will provide year-round cash-flow and work opportunities.
Stokes County, Project Manager Ronda Jones
Stokes Future received a small community grant to purchase a trailer for the Stokes Future Farmer's Market.
Wayne County, Agent Tyler Whaley
Kim Davis of Fremont received a small grant to develop a new business, Greenhouse Transplant Tray Steaming Services. Davis realized that tray steaming had become a necessity for tobacco growers since the original process to control pathogens, using methyl bromide is no longer available. Control of disease pathogens can be achieved by tray steaming at 175 degrees for 30 minutes. Davis, who has been growing tobacco transplants since 1990 will offer the service to tobacco growers in the region.
2014 GRANT PROJECTS
Wilson County, Agent Norman Harrell
Mechanical Pea Harvester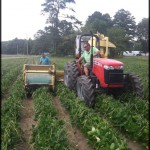 Spencer Davis, a third generation tobacco farmer plans to diversify his income by expanding his vegetable garden into 10 acres of income producing produce. Peas are his specialty and he will use his grant funds to purchase a mechanical pea harvester. Davis, who has an Agricultural engineering degree, said he is looking forward to learning how it works and possibly modifying it to work with other crops.
Update:  Spencer has planted 10 acres of peas, butterbeans, and snap bean. He has purchased a used Pixall picker. In addition, he has purchased a Bean and Pea Sheller. He has more than invested the 10% matching funds he was required. Butterbean harvest should begin very soon.
Davis adapted the picker to fit his needs. The picker came with an unload conveyor to dump straight into a trailer for large volume operations. He removed the conveyor and had a local welding shop fabricate a funnel (the bright yellow piece below) for the beans to fall down into plastic crates for handling. Using scrap metal from and old tobacco baler he made a platform (brown piece below) for a rider and storage of full and empty crates.
Nash County, Agent Billy Little
Plasticulture Produce Farm Expansion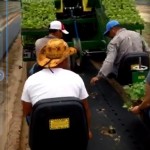 Patrick Owens, a student at Nash Community College is using profits from rented farmland to pay for college tuition. Last year, he experimented with borrowed equipment and grew a variety of seasonal vegetables using plasticulture. Plastic mulch offers many advantages, it insulates the plants and maintains a consistent temperature and humidity of the soil; it prevents evaporation which reduces water use, minimizes seed-time and harvest, prevents weed growth and erosion. With the award funds he plans to purchase the equipment to install more plasticulture and drip irrigation equipment. Owens is working on a degree in agriculture.
Update:  The grant enabled Patrick to purchase a plastic and drip laying machine so he could establish his beds of watermelons in a timely manner and not have to wait for a customer operator to schedule him in at a later time. This reduces the amount of water needed for irrigation, reduces soil contact of the fruit for disease and food safety concerns and lessens the need for pesticides for weed control. Patrick will be harvesting melons for the market the first week of July 2015.
Wilson County, Agent Billy Little
Sweet Potato Inventory Management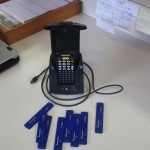 Todd Glover who has farmland in Wilson and Nash will create a high tech inventory management system using Radio Frequency Identification Technology (RFID) to manage his sweet potato inventory. RFID works via a tag that is placed on each product bin for subsequent tracking with scanners as the boxes of sweet potatoes are transported and distributed to their final market destination.
Update: The scanner, bin tags, and software have been purchased. Ninety-nine percent of the current inventory has been tagged. The application development is complete.
Wilson County, Agent Norman Harrell
Peanut Drying System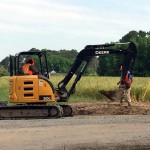 Richard Aycock of Stantonsburg grows 450 acres of peanuts. He plans to install an on-farm peanut drying system that will enable the operation to be more productive, efficient and reduce expenses.
Update:  Richard ordered two Blueline peanut dryers from Georgia. He is making site improvements for where the peanut dryers will be located by having natural gas and 3-phase power installed at the site. These are additional expenditures for Richard. He indicated that he with the total project he will have approximately $30,000 of his funds invested in the project. The peanut dryers will be installed and ready to operate by fall for the peanut harvest.
 Wilson County, County Director Walter Earle
Sullivan Farms Produce Enhancement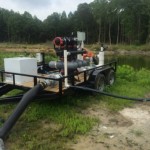 Scott Sullivan of Lucama started his produce business at the age of 5, selling corn and potatoes in his front yard. In addition to produce, the Sullivan Farm grows tobacco, cotton, corn, wheat and soybeans. With the grant funds, the Sullivan's purchased a sand filter that will save both water and energy costs and help to diversify farm produce crops.
Update: This is proving to be an excellent year to have added the sand and disc filter system. In year's past with limited irrigation water available Scott has had to limit irrigation. By adding the filter, he has been able to supply the water needs for all Sullivan Farm sweet corn, butter beans, peas and sweet potato plants. As the weather gets hotter and drier the benefit of the filter will only increase. The system cost more than was anticipated but has conserved a tremendous amount of water. They now believe it will pay for itself in one season.
Forsyth County, Agent Mary Jac Brennan
Roller Crimper for Organic No Till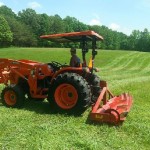 Al and Linda Hutchison are transforming a 25 acre, former tobacco farm in Tobaccoville, NC into an organic farm to raise heirloom vegetables, herbs and wildflowers. They used their funding to purchase a crop roller crimper. With this tool they can roll and kill the cover crop without using herbicide. This method builds the soil and helps maintain moisture and provides non-chemical weed management. The roller crimper would allow them to produce more organically, more efficiently and put an additional 6 acres into grain production.
 Update: The Hutchison's are keeping good notes which will be useful to other farmers that are considering using a Roller Crimper. The plan called for drill seeding Buckwheat on approximately two acres, and Clay Cowpea and Millet on four and one half acres.
They filled the roller-crimper with water, which added about 600lbs. It was immediately clear that while the forks on the front of the tractor were rated to lift well above this limit; pushing this roller on the ground was putting a tremendous strain on the forks, and it was unstable. To improve stability, they put the roller-crimper onto the back three-point hitch of the tractor and pulling. The initial plan of making one pass to both push the roller-crimper and pull the drill seeder was adjusted to make two passes. The first pass would conduct the mechanical kill and the second pass would drill seed.
Unfortunately there was no rain from the seeding date until June 1st. As of the date of this report, June 10th, there is some germination of the Buckwheat, and no notable germination on either the Millet or Cowpea.
Stokes County, County Director Debbie Cox and Agent Randy Fulk
High Tunnel Production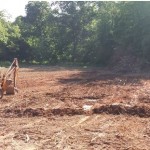 Jess Scott of Danbury bought his farm with flue-cured tobacco quota many years ago and has grown tobacco most of his life. Scott plans to use grant funds to buy a high-tunnel structure that will allow him to extend the vegetable production season, diversify the farm operation and create part-time employment opportunities.
Update:  The land has been cleared and leveled for a High Tunnel Structure. To do a little research, Debbie Cox, Stokes County Director, took Jess to visit a farm that has a high tunnel. He ordered a 30' by 80' tunnel, to be delivered on Friday July 3rd of 2015. He also bought seed for the fall crop of tomatoes.
Was the information on this page helpful?